Power Assist sure does have exciting grand final nights and those held on 12th May, were no exception – fabulous night, heaps of supporters, great games.  Well done to all the players and coaches for a fabulous night of excellent basketball and great kindness shown to all players.
Our new (or continuing) Victorian Champions are ROAR who once again dominated in the paint.  With both Frazer Dawber and Jake Nitas on fire (18 pts and 16 pts) the defense had a very difficult task.  Rogue Flare fought right to the end and the game certainly show cased the skills of our top two teams.  The finals scores of 40-15 certainly didn't reflect the commitment the game was played with, and the referees made a point of commending all players for the close and highly skilled game.
In Division 2 we saw a very high scoring final with both teams hitting a high percentage of shots.  The winners, Northern Magic, managed to get all players on the scoresheet (top scorers were Lochy McNally (19) and Julian Rocci (16)). Hassan Dennaoui scored a game high 26 pts.  A large crowd watched as the Leppards made a huge comeback in the second half getting to within 4 points – final score was 56 – 41).  Fabulous game played with a huge amount of passion from both teams.  Northern Magic and a couple of the Leppards players are all moving  up to the Championship division commencing next Friday night.
Division 3 had a very close game.  The Boomerangs came out on top (18-12) scoring a couple of easy layups in the second half and restricting the Helpmates usual scorers.  Matthew Anticaglia with 12 pts and Andrew Ramage with 8 pts were the teams top scorers.  A very large crowd squeezed in to court 2 to watch this fast and physical game.  It was great to see some full court defensive pressure applied in our Division 3, reflecting the improvement in the standard of basketball across the competition.  Both teams should be very please  d as it was a great game to watch.
Our Division 4 game kicked off the night with the Sharks team exploding out in the first half to a 17-0 lead.  But as is usually the case in finals, the Ravens were not giving up and came back with a much stronger defense.  Jonah Berton with 6 pts and multiple steals around mid-court led the Ravens back into the game.  It certainly was an exciting second half and the large crowd were very supportive of both teams.  Special mention to Ned Snelling with a terrific display of calm and controlled shooting for a total of 21 points.
Thank you to all of our coaches, who put in so much energy and commitment to the players – it's great to see such terrific messages being given to the players, especially about conduct, attitude, fair play.  These are very important messages and we saw a lot of that last night.   Also a huge thanks to our Volunteers – scorers, referees, door folk – we love you all and we absolutely couldn't run this competition without you.
Our Summer 2022-2023 Champions !!!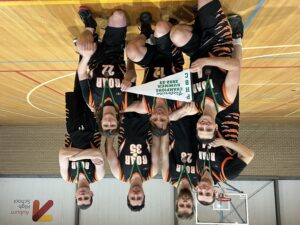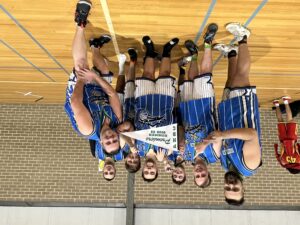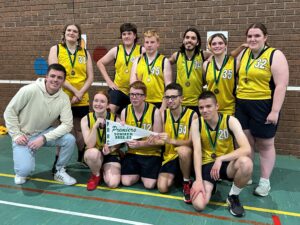 Back to news